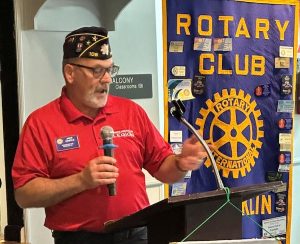 Jack Castle was our guest speaker for the April 26 Rotary  Club of Franklin meeting. Jack is retired from the United States Air Force, and a member of American Legion Post 108, who sponsors Boys State. Boys State is an educational program of government instruction for high school juniors and seniors. The National program was started in 1935 after WWI, and was formed in North Carolina in 1935.
At Boys State, participants are exposed to the rights and privileges, the duties and the responsibilities of being a US citizen. The training is a civics and government-in-action camp where students are elected to mock city, county and state government positions during the event. Activities include legislative sessions, court proceedings, law enforcement presentations, and more.
Students are selected by the local American Legion Post to attend the program. The cost to attend the camp is $500 per student. In most cases, expenses associated with attending are paid by a sponsoring American Legion Post, a local business or other community-based organization.
The American Legion Post needs our help in recruiting boys to go to the camp.