We've all heard the Rotary saying "service above self" and community service is one of Rotary's avenues of service.
Each Rotary Club and every Rotarian assumes a responsibility to respond to the needs of the community and to find ways to improve the quality of life in our community. This is one of those opportunities.
Many families in Western North Carolina do not have access to routine dental care and many children do not have adequate exposure to the importance of good oral hygiene as it relates to systemic health. That's why our Rotary Club and Corbin Dental have partnered to raise awareness and serve our community during Children's Dental Health Month.
This annual, month-long national health observance (February 2023) – spearheaded by the American Dental Association – brings together thousands of dedicated professionals, healthcare providers, and educators to promote the benefits of good oral health to children, their caregivers, teachers and many others.
During the week of Feb. 6, staff from Corbin Dental will visit local elementary school classrooms for dental education, guidance, reading together, word search activities, crosswords, and coloring activities for younger-age children. Rotary Club member and local dentist Matt Corbin will take tooth models for children to see what a cavity looks like, and then the kids will get to place a filling.
During the Jan. 25 meeting, Rotary Club members helped fill 500 children's dental health bags with toothbrushes, toothpaste, floss picks, tooth activity page, stickers, hygiene instructions (courtesy of Corbin Dental and Rotary Club of Franklin) and a Rotary insert.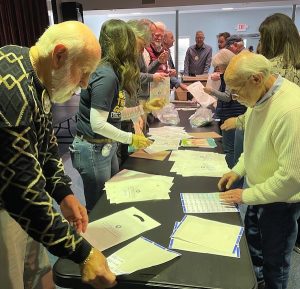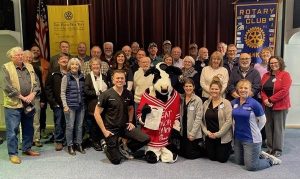 Corbin Dental has partnered with Chick-fil-A to distribute the bags with the first 500 children's meals purchased. Bags will also be distributed to 5-year-old children at Macon Program for Progress. The most vulnerable for poor oral health are those in lower socio-economic households.