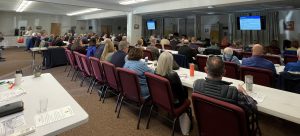 On Saturday (4 March), Eighty-two Rotarians from 43 clubs attended the Grant Management Seminar to learn how to successfully apply and execute district and global grants.  Urban myth destroyed!!!! —  Turns out it's not difficult when you have a dedicated team of foundation people ready to assist you.   District Grant, Global Grant and Scholar funds are available on a first come first serve basis.  Take advantage of them to better serve humanity and Do Good in the World.
Rick Molland (Global Scholar Chair) and Milton Butterworth III (Peace Fellowship Chair) reminded the group of the huge impact a scholarship/fellowship can have on individuals while promoting peace and understanding in our community and globally.  Contact them if you know a deserving person.
Near the end of the program, the District Foundation Chair and PDG Ken Schull recognized Ms. Nancy Brooks (Rotary Club of Asheville) for her long-time leadership and service to The Rotary Foundation and the District team.  Her unwavering service is an example for us all.
Our guest speaker was Rotarian Ruth Bolling who told the story of "Smiling Faces".  This project provides children an opportunity for a new life through corrective surgery for cleft palate.  Several clubs expressed an interest to participate in a global grant to support "Smiling Faces". This is a life changing program.  I encourage you to pursue it!!!
A copy of her presentation, a link to an example video, and copies of all the Grants Management Seminar presentations are available on DACdb (go to this link and select 2023 Grant Management Seminar for access – https://www.dacdb.com/Files/Index.cfm?Type=Downloads&ClubID=0# )
Thank you to all the presenters – Grants Chair John Davis, District Grant Chair Judy Chapman, CADRE member and grant professional John Dewitt, Stewardship Chair Nancy Brooks as well as Rick and Milton.
The event would not have been possible without the support of Melonie Stewart (Franklin), DGN Connie Molland (Madison County), DGND Alex (Alpo) Portelli (Marion) and the staff at Christmount.
Gary D. Dills, District 7670 Foundation Chair