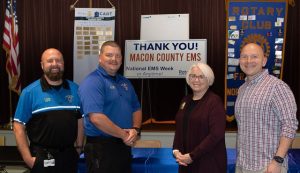 The Rotary Club of Franklin celebrated National EMS Week by inviting Macon County EMS paramedics Joey Gibson and Matt Pruett to join us for lunch on May 24. Rotary member and County Manager Derek Roland introduced Gibson. The Rotary Club of Franklin presented Gibson lunch cooler bags to give to each Macon County EMS employee.
Each year, our club sponsors the Paramedic of the Year award, which is selected by the EMS employees. Pruett was chosen by his co-workers to receive the 2023 award. He has worked with Macon County EMS since 2011.
Macon County EMS has three base stations located in Franklin, Highlands and Nantahala. The agency responded to more than 7,000 calls in 2022 and has had 2,553 calls so far this year, averaging about 20-25 calls per day.
Macon County EMS operates a Community Paramedic Program, which visits an average of 8-10 patients a day to provide chronic health condition management, safety checks, and wound care. There are currently 87 patients being served by the Community Paramedic Program.
As part of EMS Week, the Franklin High School Interact Club and Rotary Club of Franklin members joined together for a beautification project at the EMS base in Franklin.