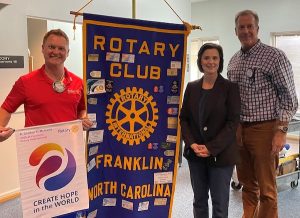 Ashleigh Chapman, founder of Altus, was the guest speaker for the Oct. 11 meeting. Earlier in the day, Chapman led a training session for local law enforcement, and that evening she presented a community program at Discover Church.
According to Chapman, North Carolina ranks in the top 10 states for the prevalence of human trafficking.
Human trafficking victims are often lured with promises of work, shelter, food and support. In the last five years, there has been a 400% increase in the online sexual exploitation of children and a 25% increase in all types of human trafficking.
Chapman said some of the warning signs to look for are concerning relationships, changes in behavior or appearance, and new possessions that the person might not normally have.
"Hear me when I say, human trafficking is happening in Macon County, it is happening in Franklin," Chapman said.
Globally, human trafficking is a $150 billion criminal business that is impacting over 50 million individuals worldwide.