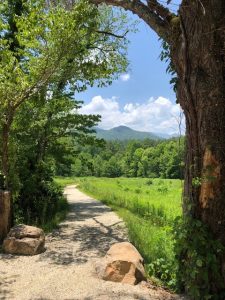 Emmie Cornell, land conservation manager for Mainspring Conservation Trust, was the guest speaker at the Jan. 4 meeting. Mainspring is an accredited land trust based in Franklin and works in the Little Tennessee and Hiwassee River basins. The area includes approximately 1.8 million acres in the six most western North Carolina counties and Rabun County, Georgia.
Mainspring's mission includes conserving the water, forests, farmland and cultural heritage of the area. Activities include stream restoration, youth environmental education, brownfield remediation and aquatic biomonitoring. To learn more about Mainspring visit mainspringconserves.org.
Queen Branch off Hwy. 28 outside Franklin is one of the areas Mainspring has worked to conserve and provide public access. Last year they completed improvements to make the trail more accessible for people with limited mobility.