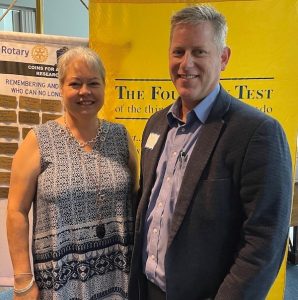 David Garrett, director of the Southwestern Workforce Development Board was the guest speaker at the June 14 meeting.
The mission of the Workforce Development Board is to foster employment for people in the seven western North Carolina counties by enriching the skills and suitability of the local workforce through education and training so that it meets the needs of regional businesses.
The board is made up of volunteers from the public and private sector. They include representatives of local businesses, community organizations, educational institutions, organized labor, rehabilitation agencies, economic development offices and public employment services. Rotarian Judy Chapman currently serves as chair of the board.
The board has oversight of the local NC Works career centers, which offer workforce development professionals from many agencies and provide a broad range of employment and training services.
Workforce Development offers services for youth, veterans and low income adults. Currently, they are assisting workers impacted by the closure of the paper mill in Canton.
Last week, the U.S. Department of Labor awarded more than $2.5 million to support employment and training services for people in WNC affected by the closure of Pactiv Evergreen's Canton paper mill and by the company's reduction in operations at its Waynesville facility.
The funding is the first increment of a National Dislocated Worker Grant of up to approximately $7.5 million that will allow the state to provide retraining and skills development for dislocated workers in Buncombe, Cherokee, Clay, Graham, Haywood, Henderson, Jackson, Macon, Madison, Swain and Transylvania counties.
Click here to learn more about the Southwestern Workforce Development board.