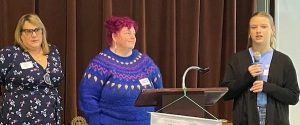 Jennifer Turner-Lynn and Andy Hall from REACH spoke at the Rotary Club of Franklin meeting on Jan. 11, which was Human Trafficking Awareness Day.
REACH of Macon County assists victims of domestic violence, sexual assault and human trafficking. Lynn said when talking to people about human trafficking, the number one question they get is: Does it really happen here? "The answer is absolutely yes," she said.
Last year, REACH provided services for 38 victims of human trafficking, including four children.
When most people think of human trafficking, they envision cases involving people being brought from other countries and forced into prostitution. That happens here, but that's not the only form of human trafficking. In addition to prostitution, trafficking may also include forced labor or violence.
Lynn shared examples of ways human trafficking may occur in our communities. Some recent instances involve traffickers taking advantage of homeless people by offering them a place to stay, then forcing them into situations against their will.
She also warned of ways teenagers or young children can be lured into relationships that may seem innocent or casual at first but then they cross the line into trafficking.
Members of the Franklin High School Interact Club leadership team were on hand to hear the program at Wednesday's meeting and learned suggestions for raising awareness at school.
Deb Williams from the Zonta Club was a guest at Wednesday's meeting. Their club also has made human trafficking one of its priorities. Williams said they recently learned that video game chat rooms have become a place where traffickers connect with people, especially young males.
For more information about REACH and the services they provide, visit reachofmaconcounty.org.