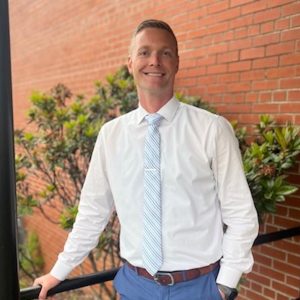 Josh Lynch is a native of Macon County and is the superintendent of Macon County Schools. When asked why he was interested in joining Rotary, he said, "I have always enjoyed giving back to the community that has supported and encouraged me."
Josh is the father of Kason James, age 7, and Eva Rose, age 4.
What are your hobbies? hiking, fishing, camping, pontooning and traveling.
Describe what would be a perfect day for you. Going on a fall hike with my family, enjoying a picnic on the trail, and watching the sunset behind our beautiful mountain ranges.
What's your favorite comfort food? Chicken and dumplings
What's your favorite vacation destination? Cape San Blas, Florida
When you have guests visit Franklin, what's your favorite place to take them? Tellico Tower (Wesser)
What other community organizations do you support or participate in? Macon Program for Progress board of directors and the Macon County Arts Council.