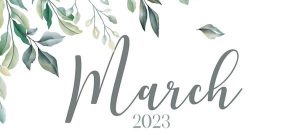 March 4 @ 9 a.m. – Roadside cleanup along Roller Mill Rd. Sign up at Wednesday's meeting or contact Guy Gooder.
March 7 @ 5:30 p.m. – Rotary board meeting at Lazy Hiker.
March 9 @ 4:30 p.m. – CareNet backpack service project. Note: this is a new day and time. Meet at the warehouse on Bidwell Street.
March 29 – Fifth Wednesday
April 21-23 – District Conference in Columbia, S.C. DGE Sean Gibson said the District Assembly meetings will be held on Friday, April 21. Training will focus on Membership, Foundation, Public Image, Diversity Equity & Inclusion, Treasurer, Secretary, and Youth.