The Rotary Club of Franklin continued its tradition of recognizing the top ten students in the Franklin High School junior and senior classes. The students and their families were invited to an outdoor reception on May 31 at Bent Willow.
Seniors: Taylor Moss, Reese Ward, Davis Anders, Callie Barnett, Seth Brewer, Kendall Reis, Alexis O'Brien, Callie Roper and Alyssa Smith. Not pictured: Tory Ensley and Catherine Rauers.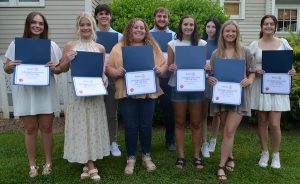 Juniors: (front) Emma Breeden, Maddie Moss, Logan Guynn, Dayanna Rubio, Hope Smith and Gracie Elliott; (back) Holly Taylor, Thomas Raby, Campbell Tyler, Barrett Stork, Cameron Trubicza and Jacob Sellers.